Living Doll Festival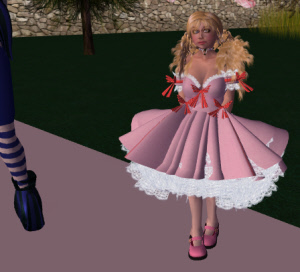 It is a day for dolls to get together, celebrate being dolls, and do doll stuff. Or just have a good time. Everyone is invited.

Send any ideas for the next festival to Christina Halpin.
Doll Day
March 3 is Japanese Doll Day, so we held our first Doll Festival on March 3, 2012. The dance the first night had a Japanese Theme.

We were really happy with it. Nothing worked out exactly the way we planned, but we had never planned a festival before. A lot of dolls helped and things went well. The first night had at least 50 different people attending, which is a lot for an SL event. It was amazing to see so many dolls together.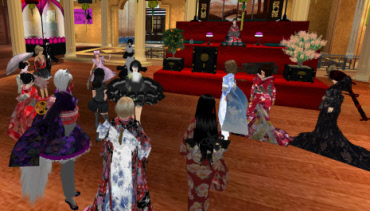 The Hinamatsuri Display
There is a traditional doll display for Japanese Doll Day. Girls set up dolls on display. Well..... Annelies built a giant Himatsuri display and we got to be dolls in the display. It was heavenly. It is said to be bad luck to leave your display up, so it is taken down, but there is always next year.
Contests
For the Saturday morning doll contest, dolls were put on display and judged. There were a lot of really good dolls. First prize went to Doll Rowan (rowan.Scarborough). Second prize went to Ealaela, and third prize was for Saki. Faith won an award for best Victorian Doll and Morganna was best Dark Doll.

For the nightly contests, there was a contest board, different categories, and voting. Additionally, two winners were chosen from those attending the first night. First prize went to Mika (mikado.ireka), and second was KT (Katey Haystack).

Christina Halpin won the dolly-stuff contest for her winding key, a key that combined with Qetesh's Tailor to allow someone to be a doll key. DX won a $1000 second prize for his Doll Stand.
Thanks
Thanks to everyone who came or helped. There are too many people to thank, but special thanks to Sakikoyo, who hosted the event on her land.